Our patent-pending system uses Firefighting Drones, long-range Thermal Cameras, Weather Collection Stations, and ground-breaking AI Software for early fire detection, 24/7, up to 5 miles.
Critical information is transmitted to fire department command centers for coordinated analysis and decision making.
Our fire-fighting drones are then quickly deployed to the scene day or night, strategically located near fire-prone locations, for low-altitude high-precision, rapid fire-combat.
And AAIS fire-fighting drones can be deployed in swarms combatting fires over greater expanses of land.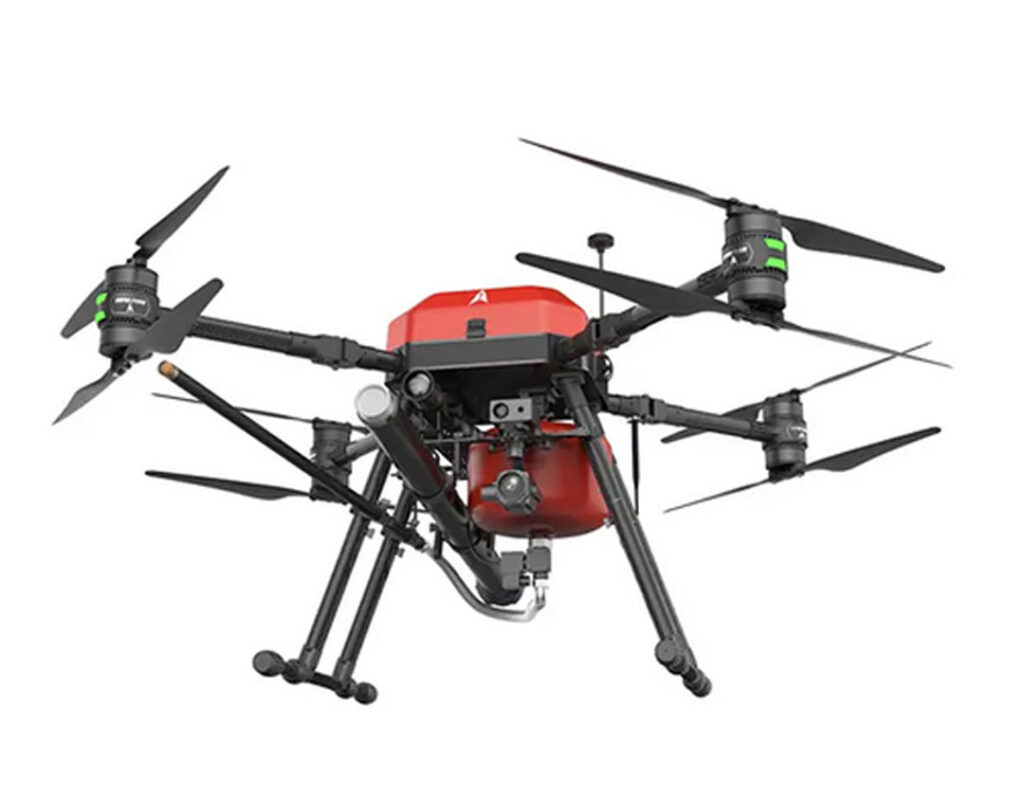 Autonomous Firefighting Drones
Heavy lift, firesafe, autonomous with payload capacity up to 220 pounds
Thermal Cameras
AI powered to detect early fires up to five miles away in fog, rain, snow, smoke, dust, and at night.
Weather Collection Station
Real-time meteorological data for AI powered fire prediction
AI Platform Command System
Critical AI powered data and video displayed to remote firefighting command centers for coordinated analysis and decision making
We provide 5 key elements

The fastest way to respond to fire when every minute counts

An integrated fire solution using AI and drone technology

The capability to mitigate or possibly extinguish fires before they spread

The ability to send live video and precise critical information to firefighters and other responders

A new way to save lives and our environment
Dry Powder Bombs
4 ABC Ultrafine Dry Powder Bombs can be dropped one at a time, each capable of extinguishing an area of up to 6 square meters.
High Capacity Battery
High capacity battery with intelligent power management provides up to 35 minutes of flight time.
Fire Extinguishing Tank
3kg or 12kg tank of dry powder has an electronically controlled fast opening mode. Powder spray pipe is made of carbon fiber and can extend up to 4.3m long
Multiple Cameras
4K Camera with 30X Optical Zoom used for long-range tracking, surveillance & reconnaissance, and security patrol.
Combat wildfires in the first 30 minutes when it's easiest to suppress and cause the least damage.
We offer 4 core components that when combined, provide firefighters with the most advanced technology available today for early wildfire detection and rapid suppression. The suite allows faster response times to identify and combat early fires and promotes a strategy of early containment.